Carrie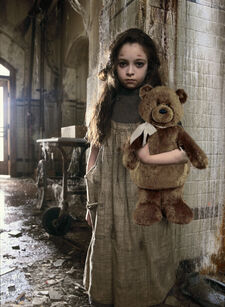 Information

Name
Carrie
Status
Active
Classification
Manifestation
A little girl with long brown hair wearing a hospital gown and slippers, holding a stuffed teddy bear. She is cute and more than likely will be gorgeous when she is older, but now she is of pale pallor with the ghost of dark circles under her eyes. She looks to be about nine or ten. With her always is a stuffed teddy bear named Maynard.
Background
Carrie is a mental representation of Bethany Lynch of a time when she was in the hospital to have her appendix removed. She appears to manifest and interact independently of Bethany, therefore it is possible that Bethany has no knowledge of Carrie.
When Carrie first appeared to the cast, she was attempting to kill them. Now she appears to have adapted the role of guide in regards to interactions with Bethany.
Appearances
Season 1
1.22 Hide and Seek (Finale - Part 2)
Season 2
Season 3
Community content is available under
CC-BY-SA
unless otherwise noted.