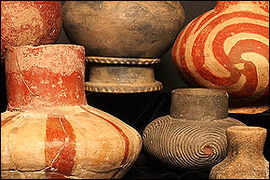 The Archeology Department at
Miskatonic University, West Campus (MU)
is in Edwards Hall, located at the southwest corner of N. Main Street and S. West Street. The four-story building serves as admirable headquarters for the largest of the University's colleges. The basement and the first floor contain various classrooms and lecture halls, including two large auditoriums. The School of Rhetoric and its attendant departments of classical languages, English and modern languages occupy the second floor, along with the School of Arts (departments of fine arts and music) and the small School of Natural and Revealed Religion (departments of philosophy and religion). The School of Human Conduct (departments of anthropology, geography, modern history, psychology and sociometrics) occupies the third floor, while the fourth floor is home to the School of Antiquities (departments of ancient history and archaeology).
Faculty
Dr. Linda Harris (Associate Dean)
Dr. Thomas Sparrow III (Professor, Ancient Archeology)
Community content is available under
CC-BY-SA
unless otherwise noted.