Lt. Perry Ellis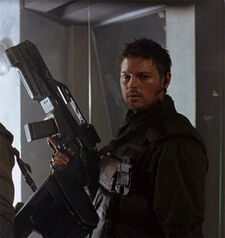 Information

Name
Lt. Perry Ellis
Aliases
Boss
Status
Active
Classification
Human
Affiliation
Delta Green

Ellis is a short but broad shouldered muscular man with short hair. He is typically a gruff, humorless man that is usually short on praise unless it really counts. Codenamed "Boss", Ellis takes his commanding role seriously, protecting those who serve under him fiercely.
Background
Ellis joined the Marines straight out high school in an initial effort to get as far away from his dysfunction family as possible. However, once in, he found himself becoming part of larger military family that gave him a sense of purpose and worth. He excelled and rose quickly through the ranks.
On one particular mission in the Middle East, Ellis drew the attention of the Wilmarth Foundation when he was forced to assume command of his squad after his CO was killed. By the time the Foundation had arrived, Ellis had dealt with a particular star-spawned meance. Eventually he was recruited and became commander of Delta Green, the miltary division of the Foundation.
Powers and Abilities
While he frequently commanded those with paranormal abilities, Ellis possesses none. However Ellis is a brillant tactician and inspires fierce loyalty in those who follow him.
Season 1
The cast first encountered Ellis in the town of Goatswood, Oregon when the Foundation swooped in to contain the zombie out break there.
Season 2
Ellis was in command of the contigent of Delta Greens that accompanied the cast to Atlantis. He also trained them to be a part of his Delta Green when the cast journeyed to Iraqi in an attempt to recover a fragment of the R'yleh Disk
Recently while in the Underground, Ellis lost most his company. Feeling responsible for their deaths despite the circumstances, he honorably retired from Delta Greens.
Season 3
Ellis is currently working for Nathanial Lynch as head of security and contingency planning for his club Purgatory.
Places
Appearances
Season 1
1.19 Last Stop, Goatswood
Season 2
2.8 Beyond the Sea
2.10 Blessed Be
2.11 Underworld
2.12 Rise of R'lyeh
Season 3
Community content is available under
CC-BY-SA
unless otherwise noted.